Welcome to Uludag Lizbonia Hotel!
| | |
| --- | --- |
| Free Breakfast | Restaurant |
| Free Wi-Fi | Bar |
| 24/7 Reception | Skiing |
Uludag, one of Turkey's most popular winter holiday destinations, is here to make your stay unforgettable during the winter season. Located in Uludag's 1st Region, Uludag Lizbonia Hotel aims to provide guests with a unique experience surrounded by the beauty of nature.
Perfect Location
Uludag Lizbonia Hotel is only 45 kilometers away from the city center of Bursa. This location combines the tranquility of nature with access to modern amenities. The hotel is ideally situated for skiing enthusiasts and nature lovers, offering a unique holiday opportunity.
Comfort and Service-Oriented Approach
Thinking of its guests, Uludag Lizbonia Hotel offers a "home away from home" warmth. It provides everything you need for your comfort, including free Wi-Fi, a safe, and room service. Additionally, it offers various activities such as skiing equipment and lessons to make your vacation exciting.
Cozy and Stylish Rooms
You will feel extremely comfortable in the modernly designed rooms of Uludag Lizbonia Hotel. Standard rooms offer you the choice of a double bed or two single beds, making you feel at home. They are also equipped with amenities such as a hairdryer, LCD TV, shower, and toilet.
Culinary Delights
Spoil yourself with our hotel's full-board concept for your meals. We offer a variety of options including breakfast, lunch, dinner, and evening tea. Our restaurant provides an open buffet service for each meal, promising you a delightful culinary journey.
Activities and Entertainment
Just a few steps away from the ski slopes, the hotel offers you a unique experience. You can go skiing with your SKI PASS, take skiing lessons, and rent equipment. Additionally, we offer free games like backgammon to keep you entertained.
Reservations and Information
Make your reservation now to immerse yourself in a unique Uludag experience. Feel free to contact us for check-in and check-out times, services, and more information.
For an Unforgettable Holiday...
As Uludag Lizbonia Hotel, our aim is to bring you comfort, taste, and entertainment in the lap of nature. We would be delighted to welcome you to our hotel for a holiday filled with unforgettable memories!
Room Options at Uludag Lizbonia Hotel
Economy Room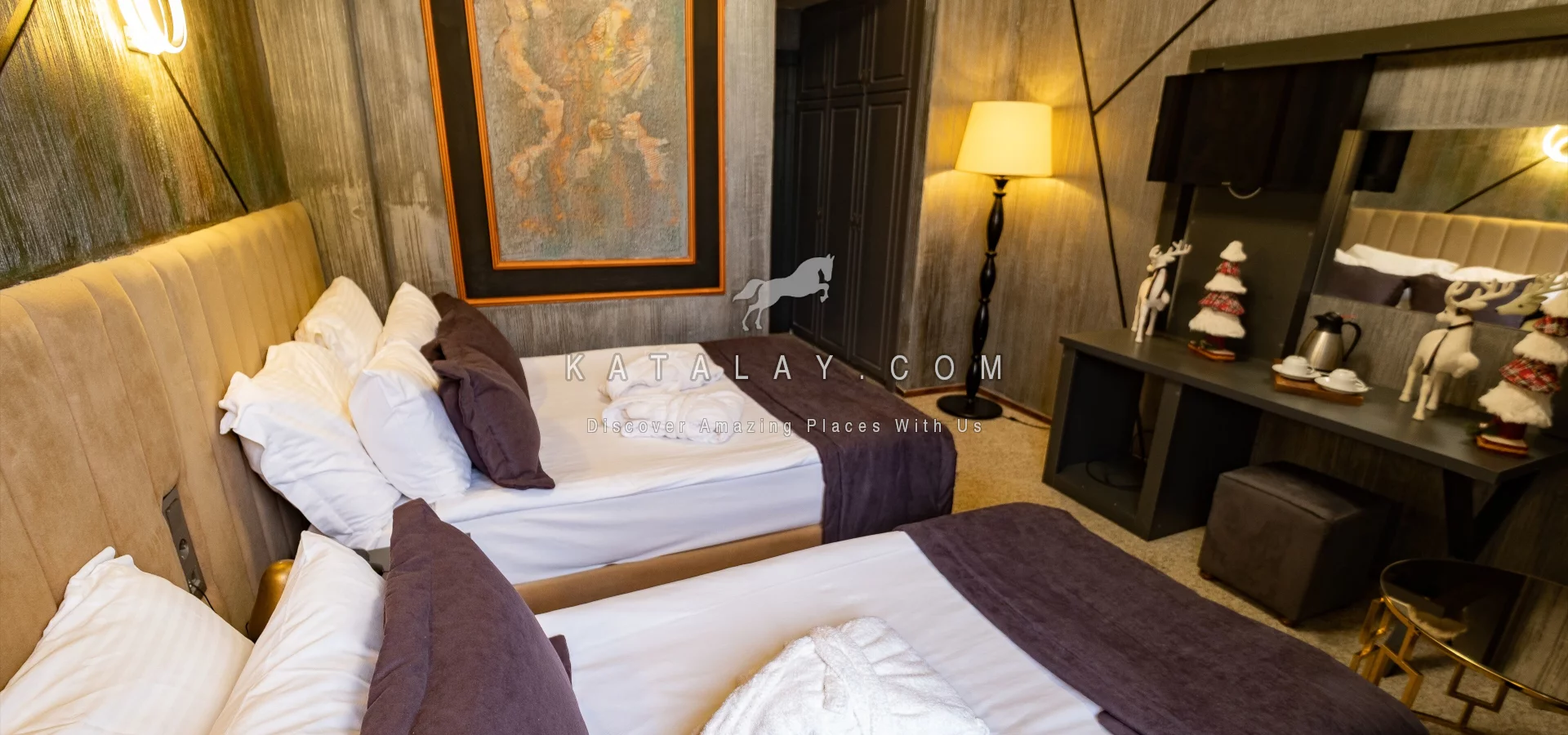 15-20 square meters
for 4 people
2 double beds or 4 single beds
Standard Room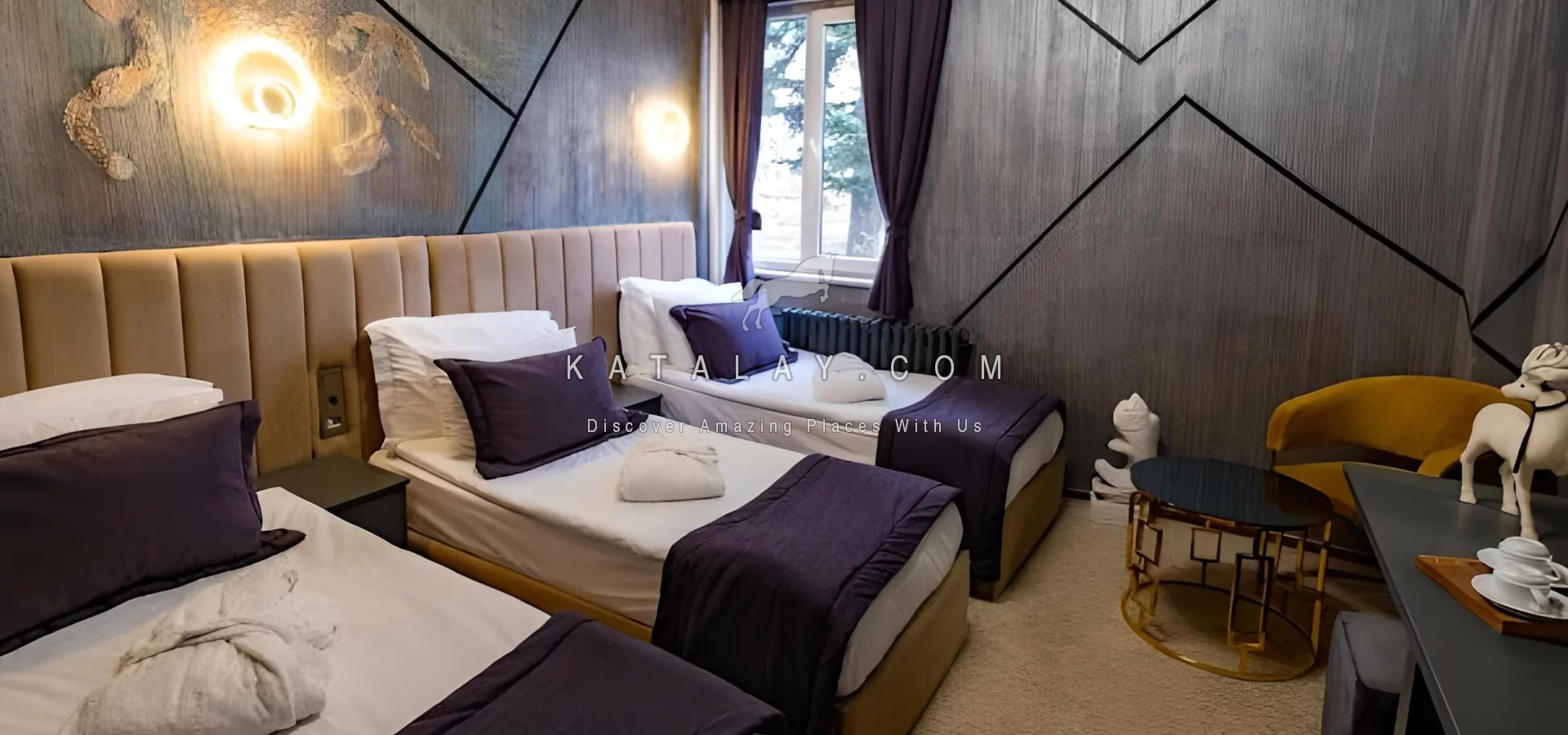 15-20 square meters
for 4 people
1 double bed, 1 single bed, or 3 single beds
Superior Room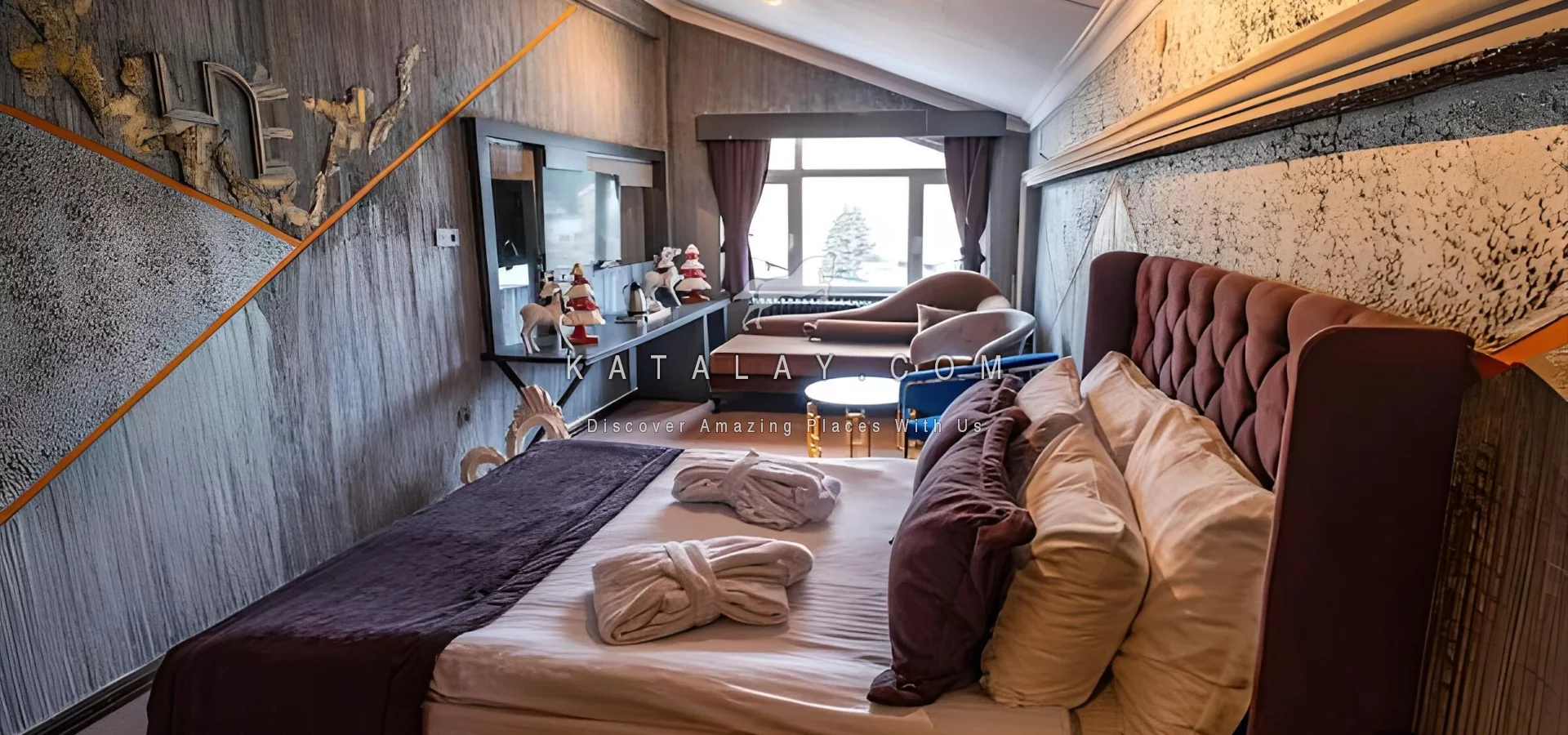 25 square meters
for 3 people
1 double bed, 1 single bed, or 3 single beds
Deluxe Slope View Room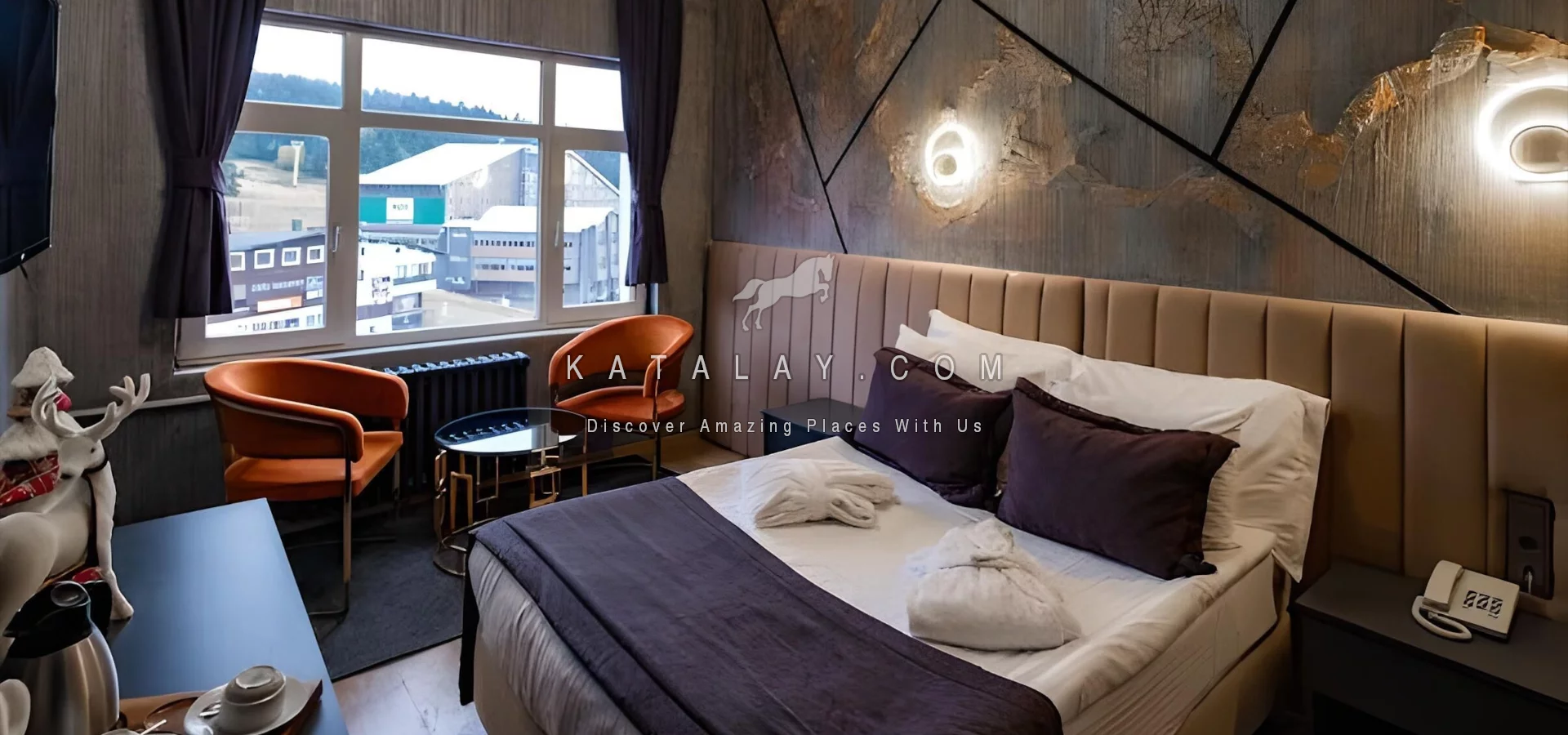 25 square meters
for 3 people
1 double bed and 1 double sofa bed
Things to Do at Uludag Lizbonia Hotel
When you choose Uludag Lizbonia Hotel for your vacation, you can expect an exciting array of activities. From skiing adventures to relaxing in our modern rooms, there's something for everyone.
Services Enhancing Your Stay
Our service-oriented approach provides you with a comfortable stay. Enjoy free Wi-Fi, room service, and more. We also offer ski equipment and lessons for an active holiday.
Dining Options to Suit Your Palate
Savor delicious meals at our restaurant. We cater to your taste with a full board concept. From breakfast to dinner, there's a rich variety of dining options to enjoy.
Travel Convenience with Your Children
Traveling with your kids? We've thought of everything with our free kids' club and babysitting service. Let your little ones have a fun time while you relax.
Remote Work Convenience
If you need to work during your stay, our well-equipped business center helps you stay productive.
Facilities and Amenities for Your Comfort
Explore a range of facilities, from a 24-hour reception to laundry services. We aim to make your stay as comfortable as possible.
Accessibility Features
We prioritize accessibility, and we have a suitable elevator that provides access to all floors.
Ski Adventures Await
You're just a few steps away from ski slopes and equipment, offering an amazing skiing experience. Get your SKI PASS, join the lessons, and experience the thrill of skiing.
Choose Uludag Lizbonia Hotel for an unforgettable experience where comfort and adventure seamlessly come together.
Overview of Uludag Lizbonia Hotel
Accommodation Size
The accommodation has a total of 56 rooms.
Check-In/Check-Out
Check-in time: Between 14:00 and 22:00.
Minimum check-in age: You must be at least 18 years old to stay.
Check-out time: Check-out should be done at noon.
Travel Restrictions
Before your trip, don't forget to check the current COVID-19 restrictions.
Special Check-In Instructions
Guests should contact the property in advance to learn check-in instructions. Reception staff will greet you upon arrival.
There is no after-hours front desk at this property. Guests must contact the property in advance for check-in instructions. Guests should call the property at least 24 hours before arrival using the information on the reservation confirmation.
Requirements During Check-In
A credit card, debit card, or cash deposit may be required for additional expenses.
You may need to provide an official identification document.
Guests must be 18 years or older to check in.
Children
This accommodation does not have cribs (infant beds).
Pets
Pets are not allowed.
Internet
Complimentary wireless Internet access is available in public areas.
Free wireless Internet access is provided in rooms.
Parking
This hotel does not offer parking.
Facilities and Amenities at Uludag Lizbonia Hotel
Food and Drink
Complimentary Buffet Breakfast: Start your day with an energetic free buffet breakfast daily between 7:00 AM and 10:00 AM.
Restaurant: Enjoy delicious meals at the hotel's restaurant.
Bar/Lounge: Relax at the hotel's bar or lounge and enjoy your drinks.
Coffee Shop/Café: The hotel's coffee shop or café is an ideal choice for coffee enthusiasts.
Complimentary Coffee/Tea in Common Areas: Free coffee and tea are provided to guests in common areas.
Free Daily Reception: Meet other guests with a complimentary daily reception event.
Services
24-Hour Front Desk: The hotel offers a 24-hour front desk service.
No Compromise on Entertainment
LCD Television: LCD televisions are available in rooms for your comfort.
Home Comfort: Experience home comfort in the rooms.
Heating: Adjust the room temperature according to your preference.
Have a Comfortable Sleep
Bed Linens Provided: Bed linens are provided.
Enjoyable Amenities
Heated Floor: Experience a warm and comfortable stay with heated floors.
Refresh
Shower Only: Showers are available in the bathrooms.
Hair Dryer: Hair dryers are provided.
Towels: Clean towels are always available.
Stay Connected
Desk: Rooms are equipped with a working or dining table.
Free Wireless Internet: Complimentary wireless Internet access is available throughout the hotel and in the rooms.
Other
Once Per Stay Housekeeping: Room cleaning and housekeeping services are provided once per stay.